Understanding Next Generations All Ceramics and Proper Cementation
Since the introduction of the first monolithic restoration, fixed dental prostheses have come a long way. In particular, the all-ceramic category has seen a drastic shift to new materials with what seems like a new one entering the market every day. In this CE webinar, Dr. Michael DiTolla will aim to help you understand and decipher the difference between these materials, introduce you to the next generation of all-ceramics, as well as provide you with an in depth overview about cementation options for these new materials.
In this webinar, you will learn more about the following themes:
Understand the newest all-ceramic material technology on the market
Learn how to differentiate between oxide-ceramic materials
Learn about cementation options and bonding protocols
(Webinar and CE provided by our partners at VivaLearning)
---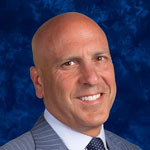 About Dr. Michael DiTolla: Dr. DiTolla is Editor in Chief for Chairside Magazine, has a monthly column on restorative dentistry in Dental Economics. He has been lecturing on restorative dentistry topics since 1995.

As a self-proclaimed "average dentist", he has created techniques that give him great restorative results with a very average set of hands. His mission is to share these techniques with dentists to help them improve their preps, impressions and restorations.